Reptiles dominated the globe before mammals appeared, and their alien-like characteristics and unusual behavior continue to captivate researchers and pet owners. It's a big decision to bring a new animal into the house, especially if you want the kids to get it to develop their connection and responsibility skills.
Despite their intimidating appearance, these cold-blooded animals are some of the simplest to care for as pets. Reptiles often require less room to live comfortably and spend less to feed than other types of pets. They are more exotic than common animals; however, certain species require specific care and are inappropriate for novice owners. This article thoroughly covers the top 10 most popular pet reptiles.
The Top 10 Most Popular Pet Reptiles:
For individuals who want a pet that requires less maintenance than a dog or cat, reptiles make good beginner pets. Without assistance, choosing the ideal pet reptile could be challenging, given the wide variety of reptile species. These reptiles may live long lives as excellent companions if given the right care. Here is a list of the top 10 most popular pet reptiles:
Leopard gecko
Corn snake
Bearded dragon
African sulcata tortoise
Ball Python
Red-eared slider
Chameleon
Blue-tongued skink
Crested gecko
Eastern box turtle
Leopard Gecko: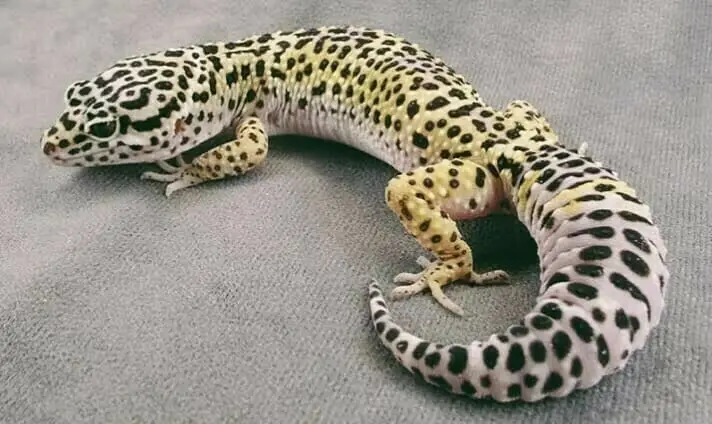 | | |
| --- | --- |
| Scientific Name | Eublepharis macularius |
| Lifespan | 15 years |
| Diet | They eat to live, moving insects as food mostly. Lesser quantities of roaches, waxworms, mealworms, silkworms, super worms, and other live insects with commercially bred crickets may form a suitable diet. |
| Level of Care | Low |
| Cost | $15 – $3000 |
Although geckos are smaller than other reptile pets, they are available in many species. The Leopard gecko is one of the friendliest reptiles you may possess, unlike some geckos who dislike handling them. They are more quick to adjust to a new habitat than other reptiles. Leopards, who live on the ground, don't require a vertical container with branches; instead, they need a small cage with a substrate so they may dig burrows. Either reptile carpet or recycled paper should be used as the substrate. Sand can upset a lizard's stomach if swallowed, while cedar and other wood substrates are too sharp for its soft feet.
You can keep a small drinking water dish in the enclosure to regulate humidity, which should be between 30% and 40%. They require an 88°F basking region heated by an incandescent lamp during the day, but you may utilize a UVB heater/light at night. Leopards consume mealworms, wax worms, and crickets, and young lizards must first put their insects in a vitamin powder before consuming them. The vitamin coating is only required every other day for adults. When hungry, leopard geckos chirp and wave their tail more loudly than other geckos. Beginners should avoid housing many geckos together because males can't coexist in the same cage without attacking one another.
| | |
| --- | --- |
| Pros | Cons |
| Interesting behavior and sounds | Not very playful or affectionate |
| Docile temperament | Live insect feeding (some pet owners dislike this) |
| Easier to care for than most pet lizard species | Live for 20 years (If you don't want to make that long-term investment) |
| Average price $30 to $100 | – |
Corn Snake:
| | |
| --- | --- |
| Scientific Name | Pantherophis guttatus |
| Lifespan | 6-8 years |
| Diet | Rodents |
| Level of Care | Moderate |
| Cost | $30 – $100 |
For novices, a corn snake is a good option. Rarely growing larger than 4 ft, eating once per two weeks, and easily adapting to handling. However, it might not be the perfect pet for you if you're uncomfortable feeding the snake pre-killed rodents. Corn snakes prefer low humidity levels of between 35% and 60% and an environment between 80°F and 85°F in temperature. To ensure that the temperature never falls under 75°F at night, their cage should be positioned away from draughts and windows. The species has a history of escaping if the top lid is loose. Therefore, a tight-fitting lid is essential.
Despite their tolerance for handling, they require a place to hide in their tanks to feel secure. The best surfaces are carpet or paper, but you may also add aspen shavings to the upper layer to simplify cleaning feces. Avoid using pine and cedar because they may irritate the snake's skin. Because the species occasionally defecate in its drinking water, the water should be changed regularly to maintain the reptile healthily.
| | |
| --- | --- |
| Pros | Cons |
| Very docile | Require specific habitat |
| Tolerate prolonged handling | Carry Salmonella |
Bearded dragon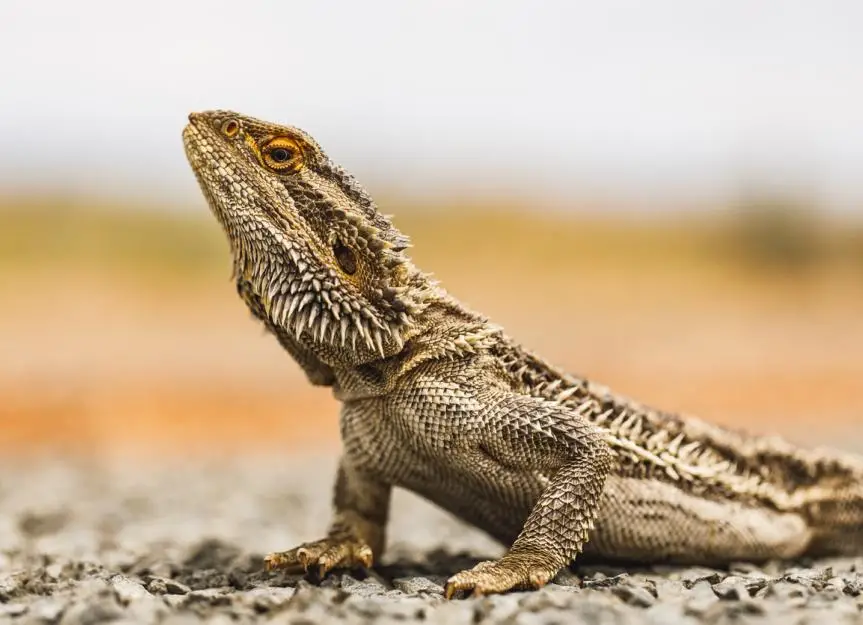 Image credit @ Pet MD
| | |
| --- | --- |
| Scientific Name | Pogona vitticeps |
| Lifespan | 10-15 years |
| Diet | They are omnivores, meaning they consume both animals and plants and could eat a variety of foods, including live mealworms, crickets, and king worms as well as leafy greens like kale, parsley, and vegetables including sweet potato and pepper. You may even offer them little amounts of fruit. |
| Level of Care | Moderate |
| Cost | $30 – $100 |
The light-tanned native of Australia has a spiky "beard" that expands around its neck when it senses danger, but keepers are unable to see the aggressive side of this adorable animal. They respond well to handling, and the majority remain calm while perched on their caretaker's shoulder. Bearded dragons have specialised diets made up of vegetables, fruit, and insects, despite the fact that they make wonderful pets for novices. Adults can only eat once each day but juveniles have to be fed three times daily. They only require 30%-40% humidity, but because they are nocturnal reptiles, they also need a basking area heated to 90°F and at least 12 hours of sunlight each day.
They may be handled by children under adult supervision because they've stronger frames than other lizards. For a bearded dragon to have a healthy and happy life, its optimum habitat should be 55 gallons in size and contain substrate, rocks, and branches.
| | |
| --- | --- |
| Pros | Cons |
| Friendly and Playful | Requires live insects |
| Variety of Colors | Can transmit salmonella |
| Trainable | – |
Ball python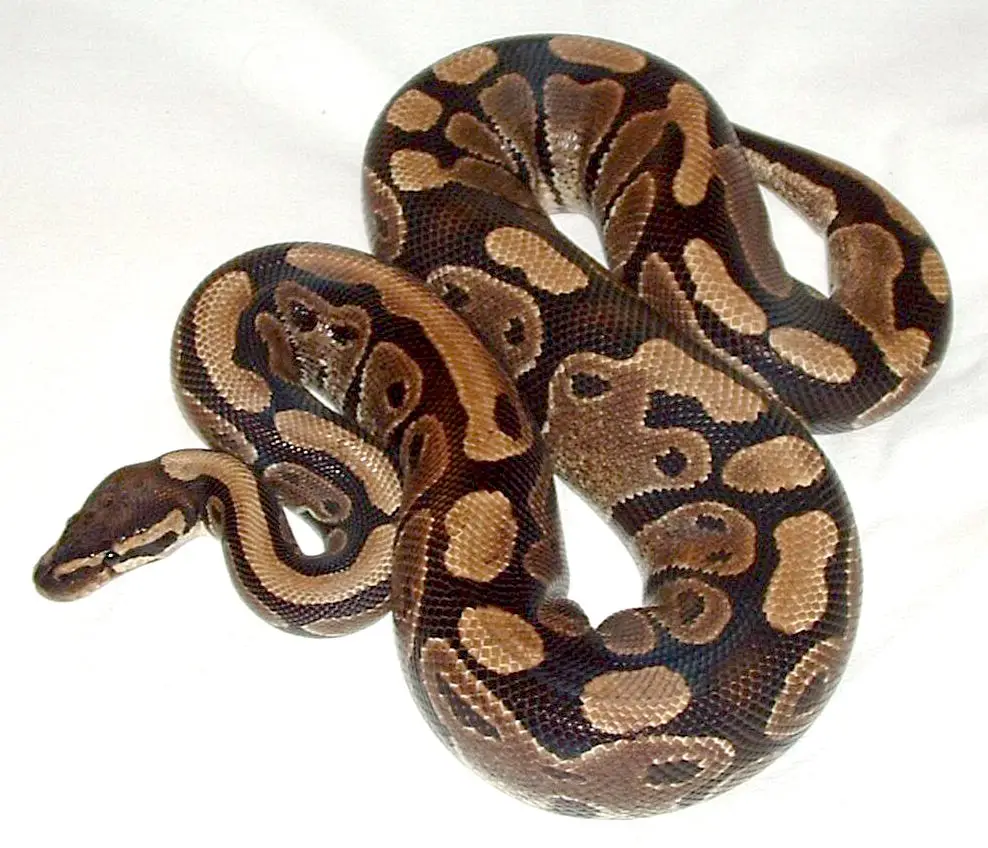 Image credit @ Wikipedia
| | |
| --- | --- |
| Scientific Name | Python regius |
| Lifespan | 10 years |
| Diet | Small mammals and birds |
| Level of Care | Moderate |
| Cost | $50 – $5000 |
Rosy Boas and Ball pythons are quite different in size and habitat requirements, yet they both have comparable temperaments. They are usually not aggressive and accept handling. To avoid an unintentional bite, they shouldn't be handled after feeding. The Ball python is a skilled escape artist, much like the corn snake. To hold them in place, a 40 gallons enclosure with a tight-fitting top is essential. The container should have a 90° to 95°F basking region under a heat lamp, and the ambient atmosphere should be about 80°F. Daytime exposure to UVB lamps is recommended, and the humidity level should not exceed 60%.
Male pythons typically grow to be around 3 ft long, while females can reach lengths of 5 ft. If given the right care, they can survive for 30 or more years. Dormant season of the snake is one of the few things that novice reptile owners worry about. During brumation, they lose their appetite and could only eat once a month. Even though it's common, some reptile owners get worried when their pets refuse to eat.
| | |
| --- | --- |
| Pros | Cons |
| Low-maintenance | Do not cuddle with you |
| Long lifespans | Can't find easily |
| Independent | Not big and impressive |
Gargoyle Gecko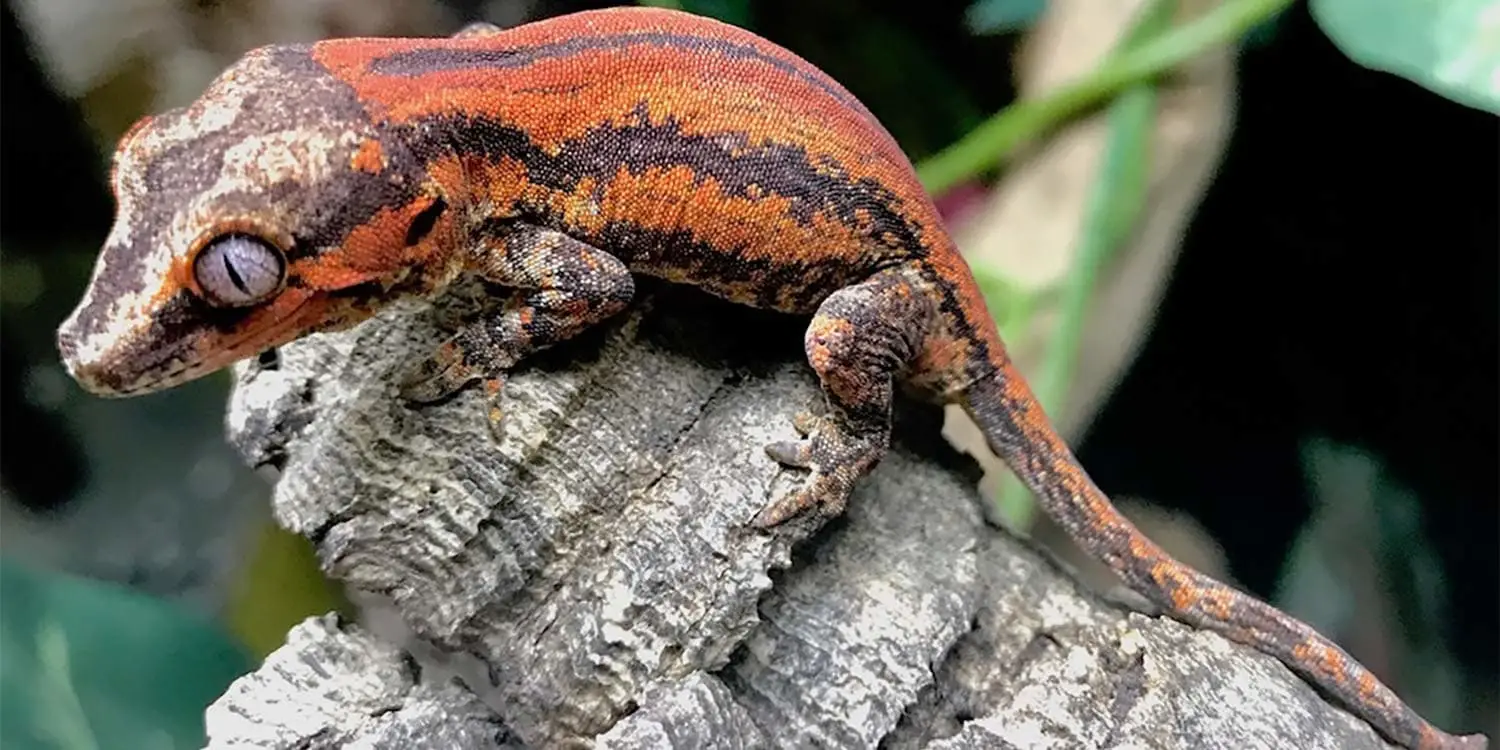 Image credit @ CB Reptile
| | |
| --- | --- |
| Scientific Name | Rhacodactylus auriculatus |
| Lifespan | 15 years |
| Diet | They consume a range of invertebrates, including powdered crested gecko diet and dubia roaches and crickets. |
| Level of Care | Low |
| Cost | $279 – $899 |
Gargoyle geckos like climbing, therefore a reptile tank with live plants, absorbent, soft substrate, and hiding spaces is ideal. Gargoyles are gentle lizards that are amenable to handling; you can tell when one is anxious by watching for the release of the tail. The tail of the Gargoyle comes back after a few months, unlike other geckos.
The container just requires incandescent lighting because the species prefer temperatures below 85°F. Some gargoyles might be picky eaters, but the majority like mealworms, roaches, and crickets as food. The lizard's native habitat will be mimicked by daily misting of the cage and maintaining humidity levels between 60% and 70% with the use of a hygrometer. Although gargoyles are quiet, they are agile climbers due to their sticky feet.To avoid an escape, supervision is necessary when the reptile is outside of the tank.
| | |
| --- | --- |
| Pros | Cons |
| Very tame | Don't like tank mates |
| Amusing to watch | Sexing can be difficult therefore most people buy hatchlings |
| Very Social and enjoy handling | Very sharp teeth |
Rosy Boa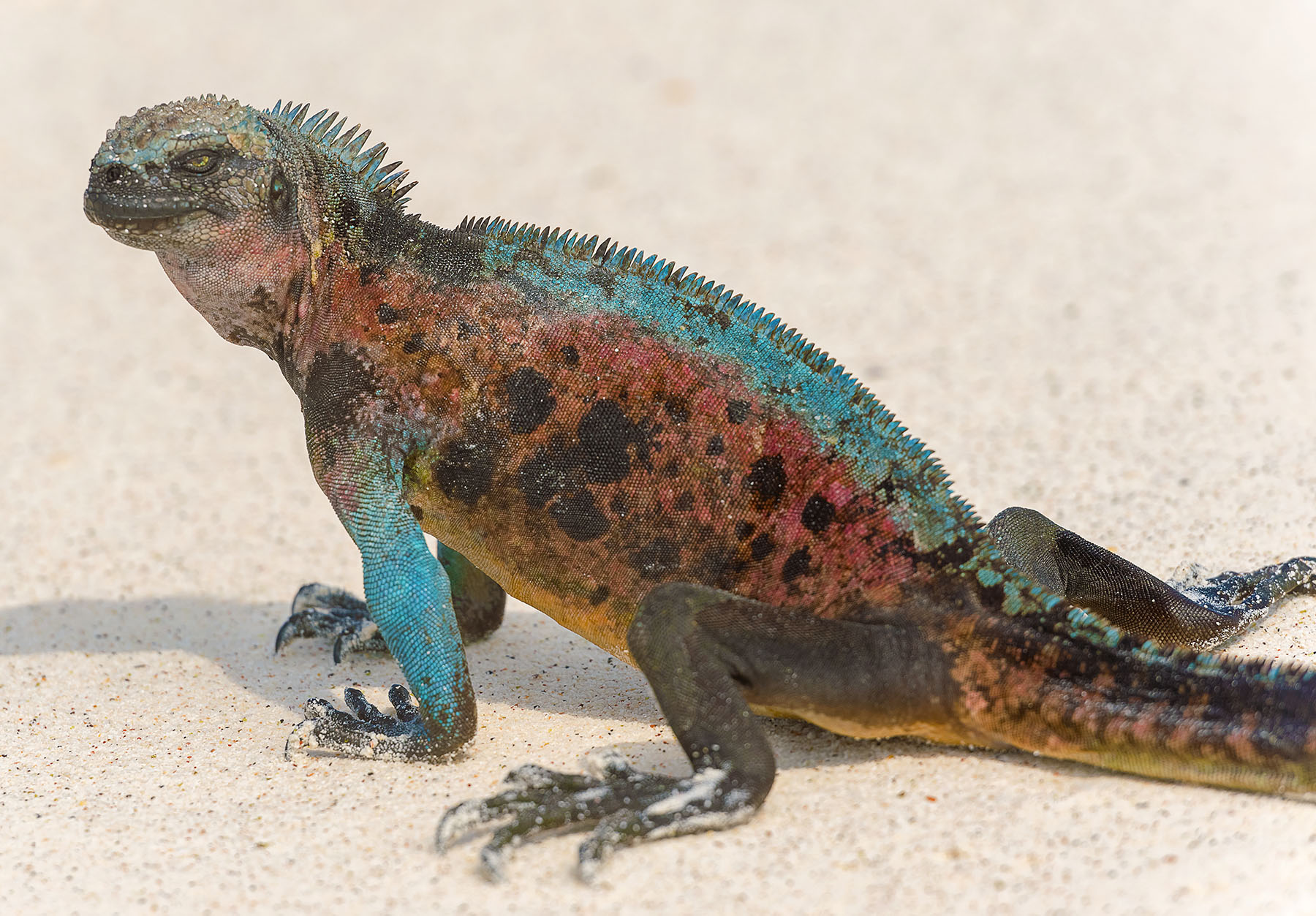 Image credit @ AZ Reptiles
| | |
| --- | --- |
| Scientific Name | Lichanura trivirgata |
| Lifespan | 15-20 years |
| Diet | Rodents, other small mammals, and small birds |
| Level of Care | Moderate |
| Cost | $75 – $100 |
The Rosy Boa is a great snake for newbies if you have never had one before. Although most adults are shorter than 3 feet in length, females are somewhat bigger and longer than males. They move slowly and are docile, yet when terrified, they have been observed to bite. However, if handled properly and given the proper living circumstances, the snake is often peaceful. They don't require high humidity (50%), but their cage should include a basking area with temperatures between 90 and 95°F. A low-wattage heat lamp can sustain heat, while a halogen light can approximate daytime light. The temperature at night can fall to 72°F.
A habitat with a rocky substrate, rock, desert grasses, and branches is ideal for rosy boas. The Rosy snake is not particular about what it eats, unlike other snakes, thus adults over the age of three only need feeding once every two weeks. Despite being excellent for beginners, Rosy boas demand a significant time commitment owing to their 20-year lifespans.
| | |
| --- | --- |
| Pros | Cons |
| Great eaters | Being nocturnal, hardly come to see in the daytime |
| very docile and tolerate handling | Hatchings are nippy |
Russian Tortoise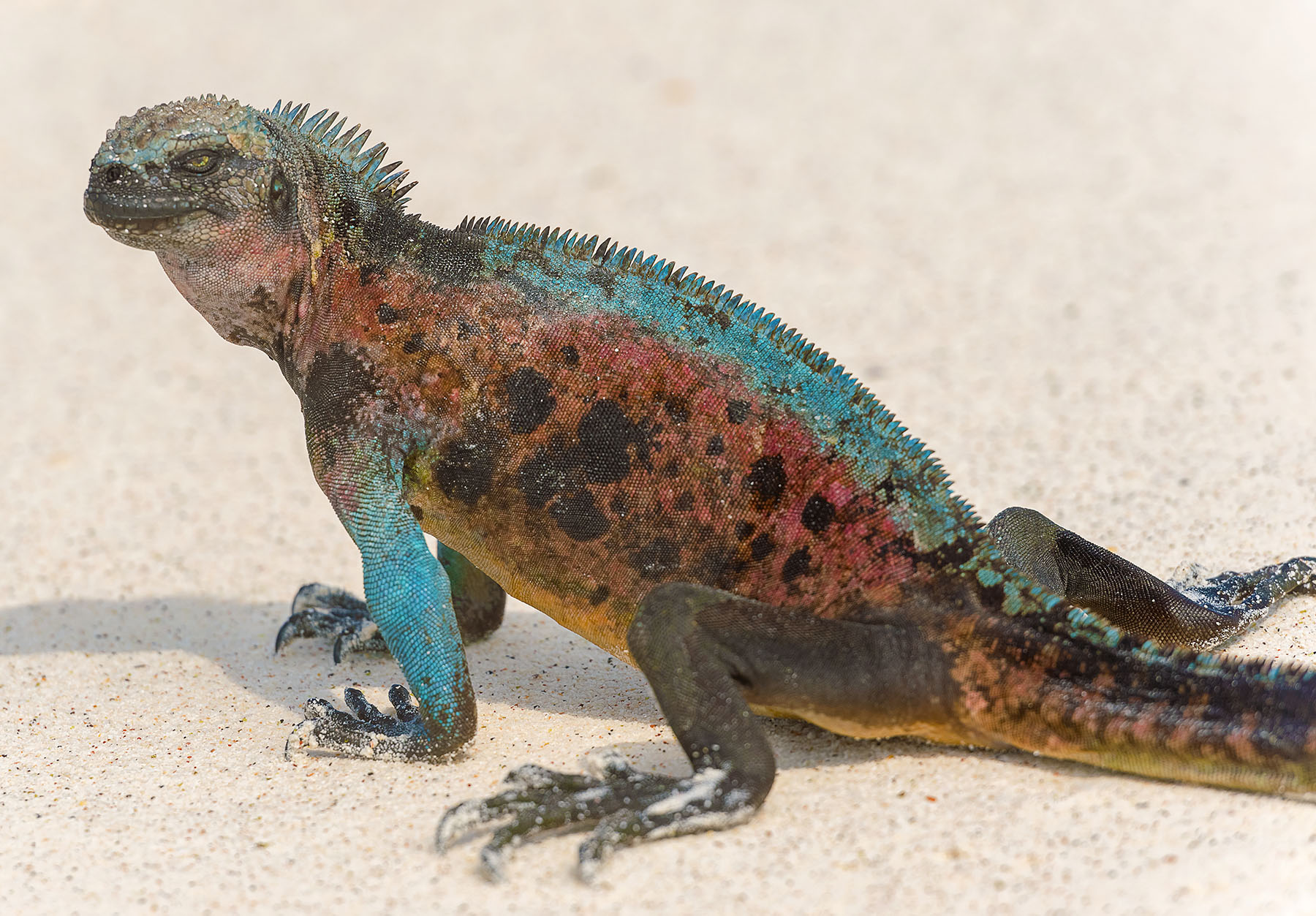 Image credit @ Reptifiles
Scientific Name

Testudo horsfieldii

Lifespan

40-50 years

Diet

They are herbivores and mostly twigs, grasses, flowers, and other foods.

Level of Care

Moderate

Cost

Hatchlings: $300 – $400

Babies: $200 – $300

Adults: $100
The only pet on our list that may be temporarily kept outside is the Russian tortoise, and caring for the unusual species needs a 40-year commitment. The tortoise doesn't rank at the top of our list due to their scarcity and long lifetime, but they are easy to care for. Although they may be handled, most animals prefer to observe people from a distance. Russian tortoises are herbivores, thus they don't need live insects or thawed mice to live a long life. They can consume flowers, weeds, and grasses but not grains or animal protein.
They require a sizable enclosure with a substrate for burrowing and reach a length of 8 inches on average. Their indoor habitat needs 60% humidity and a 90°F maintaining basking zone from a heat lamp. Russian tortoises may survive in the open throughout the summer as long as there is soil nearby for them to burrow into to avoid the heat. The backyard has to be enclosed, and the fence posts need to be buried deeply to prevent escape. The Russian tortoise is a nice pet to possess if you have a few decades.
Pink Tongue Skink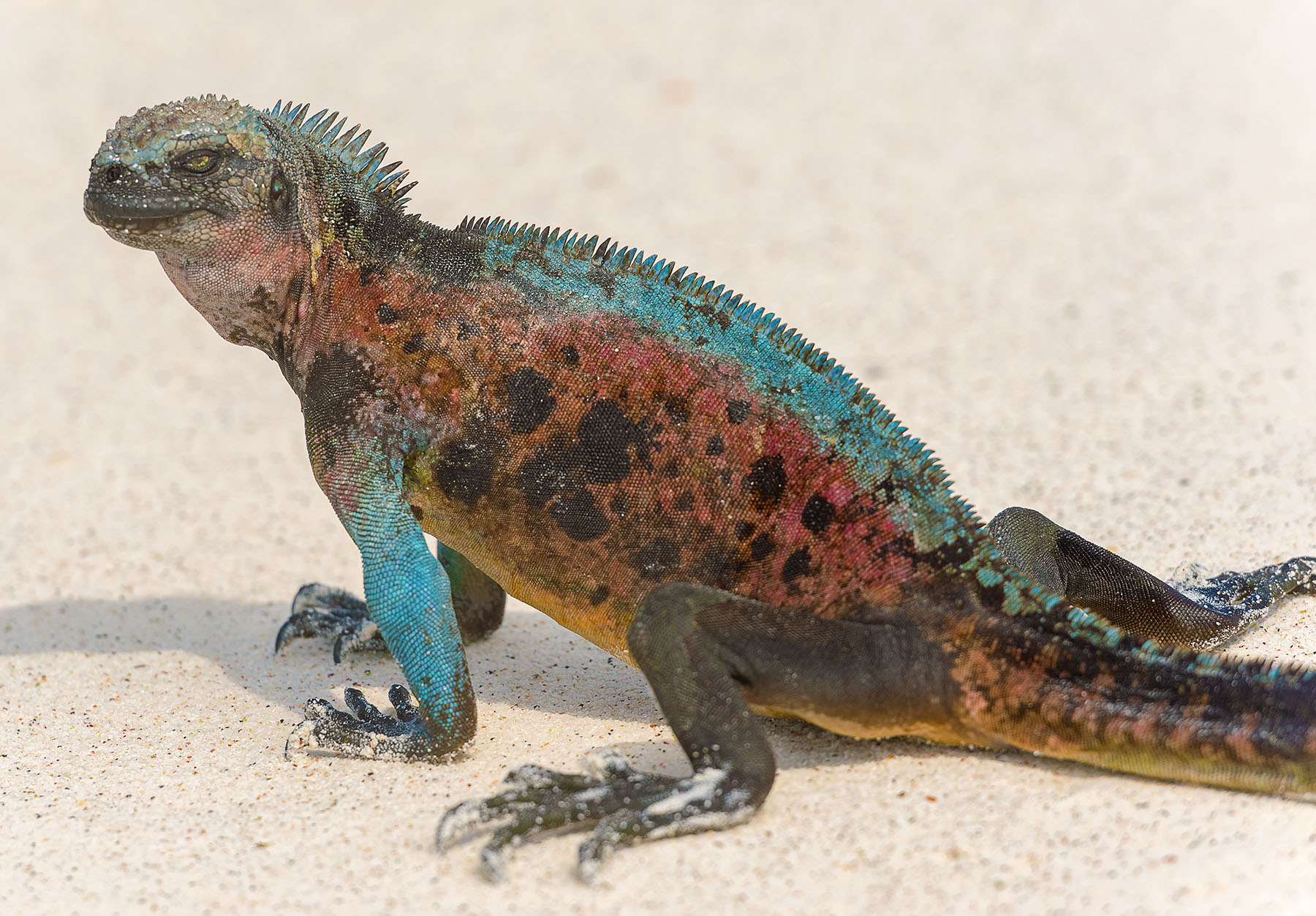 Image credit @ Snake Catcher Brisbane
| | |
| --- | --- |
| Scientific Name | Cyclodomorphus gerrardii |
| Lifespan | 10-15 years |
| Diet | A varied diet of proteins, some greens, and even some fruit such as bananas. |
| Level of Care | Moderate |
| Cost | $250 – $400 |
Pink tongue skinks are lovely reptiles with placid personalities. They have expressive eyes, long bodies, and stubby legs. They are quite easy to maintain in comparison to other lizards. Pink tongues may be controlled if given time to adjust to their new surroundings, but if they become disturbed or scared, they may bite. The skink should not be held by babies, but older children can do so under adult supervision. The pink tongue thrives in a tall enclosure with rocks, branches, places to hide, and cypress mulch substrate.
In addition to having a warm region at 80°F and a cool region at 75°F, the lizard's housing should have a humidity level of 70% and 80%. Because pink tongues are skilled climbers and like escaping their enclosures, you must make sure the lid is fastened and the screen is free of holes. Pink tongues aren't picky eaters like some members of their family. They consume fruit as well as crickets, worms, and cat food.
| | |
| --- | --- |
| Pros | Cons |
| Social creatures kept in pairs or small groups | Quite territorial |
| Very affectionate with their tank mates | Fight for food and space |
| – | Spread Diseases |
African Fire Skink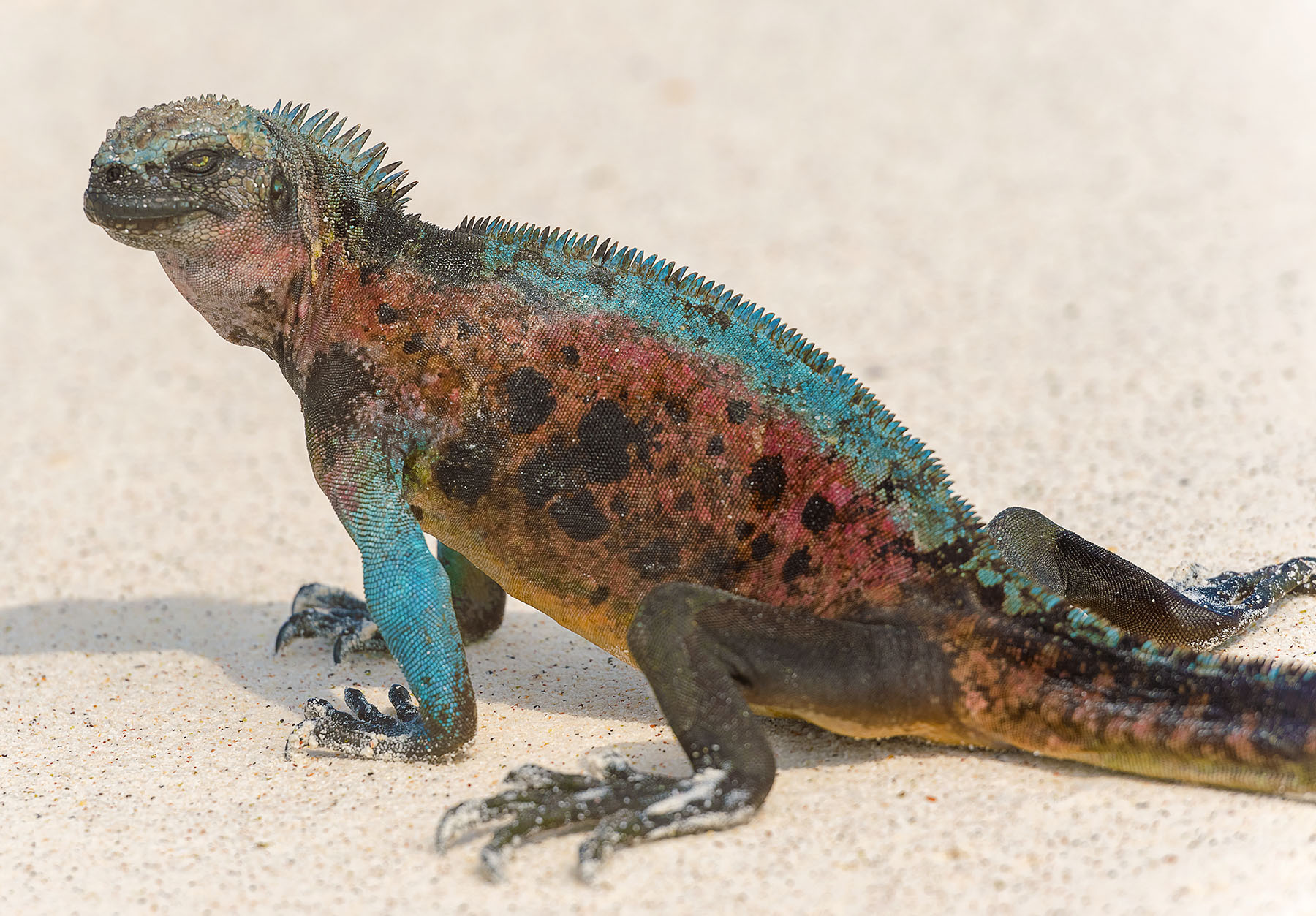 Image credit @ Animal Exotics
| | |
| --- | --- |
| Scientific Name | Lepidothyris fernandi |
| Lifespan | 15-20 years |
| Diet | They are omnivores and eat both animals and plants. |
| Level of Care | Moderate |
| Cost | $40 – $50 |
We consider this stunning lizard to be one of the most attractive animals on our list because of its vivid red scales and brilliant black and silver coloring. African fires accept handling for brief periods of time, albeit they aren't gentle. A tall vivarium with rocks, branches, places to hide, and a substrate of cypress mulch is the ideal environment for the lizard. T In order to maintain the surrounding temperature between 80° and 85°F, they require a heating source and a UVA light. The temperature and humidity in the area designated for basking should be around 93 and 96°F Maintaining humidity may be done by misting the container twice a day and keeping a shallow water dish.
African fire skinks eat crickets, wax worms, and mealworms that have been sprinkled with calcium powder. They simply need 5 to 6 insects every week to survive. When they are outside of the tank, you must be cautious to keep an eye on them because they move fastly.
Crested gecko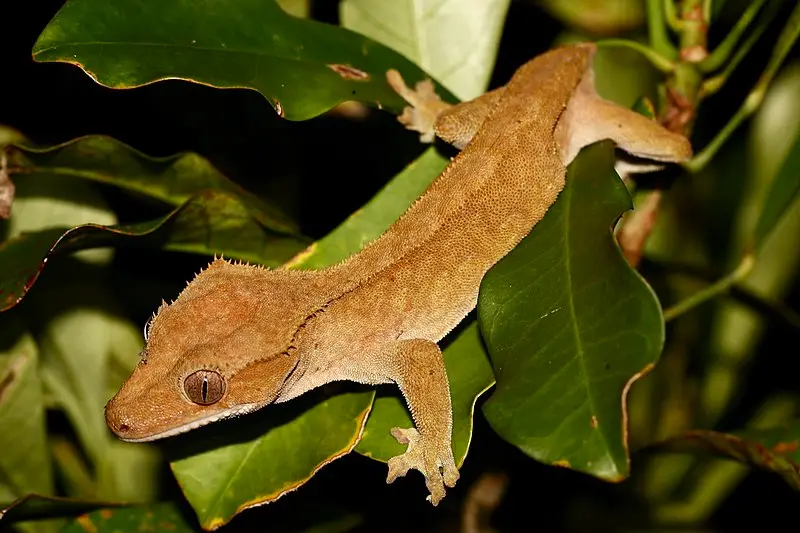 Image credit @ Wikipedia
| | |
| --- | --- |
| Scientific Name | Correlophus ciliatus |
| Lifespan | 15 – 20 years |
| Diet | Crickets, roaches, Phoenix worms, super worms, mealworms, silkworms, and wax worms. |
| Level of Care | Moderate |
| Cost | $50 – $100 |
The Crested Geckos, often known as the eyelash gecko, has small barbs on their eyelids. They're great for novices because of how easy they are to care for, although they demand more humidity than other species. Their cage should have a humidity level of 60%-70% and be misted twice a day with filtered water. The lizard will be content and at ease in a 20 gallons tank with a soft substrate, bark, live plants, and branches. Fresh fruit, insects, and commercial reptile food make up the diet of crested geckos.
They are not as gentle as the Leopard or Gargoyle gecko, but they do tolerate handling. They enjoy climbing around in their container, so if they are shy, you might want to avoid handling them for extended periods of time. When stressed, crested geckos lose their tails, and they do not grow them back. When threatened, they may also bite, however the bite is not visible and does not cause bleeding.
| | |
| --- | --- |
| Pros | Cons |
| Friendly | Monitoring for injuries |
| Live Together | Food competition |
| Need small size tank | Surprise hunting |
What Are the Pros and Cons of Keeping a Pet Reptile?
Keeping a pet reptile can be a rewarding experience, but it is essential to consider the benefits and drawbacks before making the decision to bring one into your home. Here are some of the advantages and disadvantages of keeping a pet reptile.
Pros:
Low Maintenance: Reptiles require less maintenance than other pets, such as dogs and cats. They don't need to be taken for walks, and they don't need to be fed as often.
Long Lifespan: Some of the longest and oldest living creatures on the globe are reptiles. Some reptiles can live more than 50 years or even 200 years, depending on the species!
Interesting to Watch: They are fun to touch, interesting to watch, and they're simply so different from the typical pets we have. Without a doubt, having a reptile for its cool aspect.
Educational value: Because they are unique, interesting to watch, and teach children things about unusual or non-native animals and their environments, reptiles may make excellent pets for children. Pets teach children important life skills such as trust, respect, compassion, responsibility, and patience.
Variety: There are many different types of reptiles to choose from, each with its own unique characteristics and behaviors.
Cons:
Specialized Care: Some reptile species require specialized care, such as specific temperatures and humidity levels, that can be difficult to maintain.
Expensive: Reptile and amphibians are some of the most expensive and invasive to purchase and maintain, as they require specialized equipment and food.
Potential Health Risks: Salmonella bacteria are frequently found in the gastrointestinal tracts of reptiles and amphibians. The bacterium can be carried by healthy amphibians and reptiles as well. People who come into contact with reptiles, amphibians, or their habitats, such as the water in their aquariums or enclosures, may become sick from Salmonella bacteria.
Longevity: Many reptiles can live for decades, so owning one demands long-term commitment.
Limited interaction: Reptiles are generally not as interactive or affectionate as other types of pets, and they may not form strong bonds with their human caregivers. But experts are not sure about this.
Before obtaining a specific reptile as a pet, it's essential to consider about the rules and regulations of ownership. Owning some species is prohibited or asks for particular licenses. Like if you have a license, you can keep some native lizards, snakes, geckos, turtles, and dragons as pets.
What Are Some Common Care Requirements for Pet Reptiles?
Reptiles can make great pets, but they require special care to stay healthy and happy. These include providing suitable habitats, maintaining the correct temperature and humidity levels, providing a balanced diet, and regular veterinary check-ups.
Housing:
Reptiles need a suitable enclosure as well as sources of light, and water while they are housed. Before taking your pet home, make sure the habitat is entirely ready and safe.
Temperature and Lighting:
Numerous reptiles need enclosures that are warmer than room temperature, often in the upper 70s to lower 80s with a basking area in the high 90s-100s.
Fluorescent bulbs to use for reptile cages are those that emit UVB light with wavelengths between 290 and 320 nm wavelength. UV light may also be produced by mercury vapour lamps.
Diet:
It is best to feed high-quality grass hay or so-called herbs-hay. Fresh fruits, vegetables, and greens should make up no more than half of the diet. Fruit should not make up more than 5% of the meal. Herbivorous reptiles are frequently fed plants and dandelion seeds in Europe.
Handling:
Reptiles must be handled with caution. When handling a reptile, you should move slowly and carefully. It's essential to wash your hands both before and after touching the reptile o prevent the spread of bacteria and parasites.
Cleaning:
Daily, the water used for bathing and drinking is changed. Every week or D aily, clean the substrate or change it. Remove any leftover food right away (especially anything that will decay). Keep the tank's functional and decorative accessories clean on a regular basis.
Veterinary Care:
Many doctors who specialize in reptiles recommend being checked at least twice a year. It's crucial to keep an eye out for the reptile's symptoms of disease or injury.
Conclusion:
A comprehensive overview to the most common reptile species kept as pets can be found in The Top 10 Most Popular Pet Reptiles. This guide discusses the fundamentals of caring for reptiles, including housing, nutrition, and health, from the traditional bearded dragon to the more exotic chameleon. Readers may select which type of reptile is best for them by learning about each one's special characteristics from the in-depth descriptions of each species. The Top 10 Most Popular Pet Reptiles is a great resource for anybody who wants to expand their family with a reptile thanks to this article's thorough coverage and helpful information.
FAQs:
What are the benefits of owning a pet reptile?
As a first pet, reptiles are excellent. They do not take up much room, have low maintenance, and are adorable and entertaining. You are sure to find a pet reptile that is ideal for your family with the wide variety of species and care requirements available!
What should I consider before getting a pet reptile?
Before choosing a pet reptile, you should consider the cost of the reptile, adult size, housing needs, feeding and nutritional needs, temperature, Lightning, humidity, amount of care, handling, health risks, where to buy, and the space available for housing.
Are pet reptiles safe to keep around children?
Children can keep around reptile pets, but they must be supervised at all times. It's crucial to instruct children to wash their hands after contacting reptiles because they can contain a variety of bacteria, viruses, parasites, and worms. Additionally, it's important to make sure the habitat is safe and that the reptile cannot escape.
What type of food do pet reptiles eat?
Pet reptiles eat a broad range of insects, including worms, spiders, beetles, flies, and other. Gut loaded insects and other little creatures, such as baby mice, birds, or lizards.