Yes and No, keeping a Red Eared Slider turtle does not require any license in some regions but you might have to get one for others. Moreover, its trade is limited and in some places illegal. Though you may still want to get the license for a Red-Eared Slider turtle, therefore we did the research on your behalf so you can get all the information in one place.
Red-eared sliders are a species of turtles that originates from South and North America. These turtles are commonly bought as pets because they are beginner friendly and docile.
The red-eared slider turtles are named after their ability to slide into ponds, and due to the red markings, they have on their ears.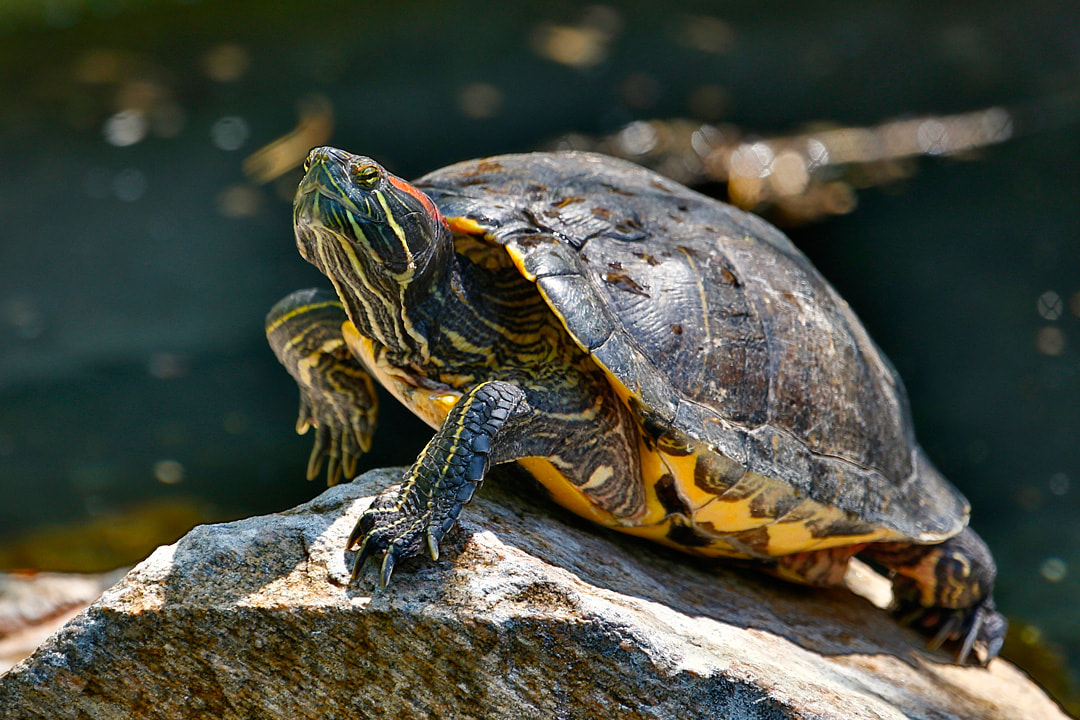 Hardiness and flexibility are cited as the most common arguments. Red Eared Sliders have shown that they can survive in poor conditions, reproduce relatively easily, and thrive in a range of habitats, including some that are too tiny for a turtle of their size.
This turtle is the most invasive out of all the species of turtles. The trade of red-eared sliders is very common and easy, as there is no strict restriction on their trade in some cases.
When Did Getting a License for a Red-Eared Slider Turtle Become a Rule?
On your query regarding turtle ownership, Republic Act (RA) 9147, often known as the "Wildlife Resources Conservation and Protection Act," is relevant.
The State's policy to limit the hunting and trading of wildlife and to conserve and safeguard wildlife species led to the creation of this act. The limitations of this regulation apply to all species of animals that can be found across the country.
The Department of Environment and Natural Resources (DENR) has the jurisdiction under this law to regulate all terrestrial plant and animal species, including turtles and tortoises.
The DENR and the Department of Agriculture collaborated to create an Implementing Rules and Regulations (IRR) document to carry out RA 9147. This IRR contains significant and in-depth provisions relating to your situation.
In general, getting the right authorization for taking care of and selling exotic pets like turtles including the red-eared slider turtle requires registration with DENR.
The reason for this is that Article 3, Section 26 of this IRR prohibits anybody or any entity from owning animals unless that person or entity can show that they have the resources, infrastructure, and knowledge necessary to protect the species in the issue.
Individuals or organizations that can prove they have satisfied this requirement for maintaining wildlife, as a result, are given a Certification of Wildlife Registration by the DENR.
Owners of wildlife species, including turtles, must get the aforementioned licenses in order to retain and transport such animals lawfully. Failing to do so might result in their confiscation in favor of the government and the imposition of the necessary fines and jail terms.
The Reason Why Turtles are Confiscated 
Keeping exotic reptiles as pets is getting increasingly common. In some countries, no one takes the time to learn how to take care of the animal even the most basic needs.
If you decide to buy a tortoise, you should first take this into consideration. Realize that every species has specific requirements and behaviors and keeping them as a pet means you must adhere to those requirements.
Does a veterinarian that can handle it lives in your neighborhood?
Are you aware that some pets could outlive you?
Can you make arrangements to handle it while you're not with them?
Do you know how large they can grow?
Do they need a garden space for digging and grazing and do you have one?
What if they need special care while they hibernate?
Do they require artificial UVA and UVB lamps?
Due to the unclean conditions, an animal like the tortoise, which has been known to live for several decades in its natural habitat, seldom survives more than a few days in captivity.
The red-footed turtle is a typical house pet in its native South America, but due to its status as an endangered species, the authorities in charge of protecting wildlife are now aware of this species once more. It's unclear who owns this animal!
In What Countries Getting a License for Turtles Necessary?
In certain Australian and American regions, you need a reptile license to purchase a turtle. Nevertheless, in the UK, it is legal. A word of warning: it's illegal to remove a turtle from its natural habitat and keep it as a pet, so take care to follow the right steps.
All turtles in the USA, except those that are exempted, are in violation and must be removed. Since numerous pet businesses offer turtles, buying one is not against the law.
In India, it is completely illegal to trade turtles so you must take permission from the government and make a license if they allow you to.
People Get a License While Getting pet Turtles, Why So?
Well, a license would only allow you to identify the owners of turtles. This might not always stop people from abusing them.
While getting a license the government or institution will give some training and make you sign a permit when you have learned how to care for the turtle. This permit has all the rules and regulations regarding the pet turtle.
Anyone older than 16 years old may apply for an Animal Keeper Licence. Anyone under the age of 16 needs consent from a parent or other responsible adult who will make sure they adhere to the guidelines for the animal's care.
How Can I Get a License for a Red-Eared Slider Turtle?
Many people hesitate while getting pet red-eared slider turtles because they need to get a license and also because of the restrictions from the government, if you are one of those people then come to ease as these turtles are what you have been looking for.
This incredible specie does not require any license for it to be your pet, its trade is limited and in some places illegal, but owning it as a pet does not require any license.
Now you may wonder why a license for this specific turtle is not required, it is because this specie is not endangered.
This means that there is no risk of it going extinct in the near future that's why getting a license is not very necessary for this tortoise.
Conclusion 
If you want to keep a pet red-eared slider turtle and are doing research about getting a turtle license for it then you can stop, as you will not need a license for getting this turtle.
It is no shock that this specie does not require a license because it is a "least concern" turtle specie.
This turtle is extremely friendly and having a petite size, it attracts all turtle lovers.
There are some countries in which owning these turtles are completely restricted other than those countries you will not need a license.
FAQs About License for a Red-Eared Slider Turtle
How do you get a tortoise permit in Florida?
The first step is to get a permit application form. On the website of the California Turtle & Tortoise Club, PDF permit application forms are available. By selecting Desert Tortoise Permit Application, you may download the three-page permit application that the California Department of Fish & Wildlife has requested.
Can I bring the turtle to the US?
There are no CDC restrictions on the importation of live turtles whose shells are longer than four inches so yes you can bring the turtles to the USA.  But the U.S. Fish and Wildlife Service must approve the import and export of all tortoises and terrapins.
Can you sell turtles in the US?
No, it is not legal to trade or sell tortoises within the US, especially the turtles whose shell is under 4cms.
Can I fly with my turtle?
As long as they are in a compliant carrier and are not removed from the carrier while the flight is in progress, some airlines will allow them in the cabin. Reptiles: Neither as checked luggage nor in the cabin, airlines do not accept them.